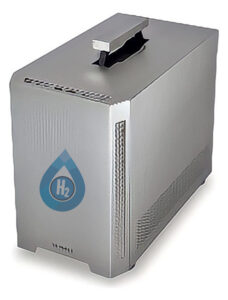 The following is for informational purposes only and should not be construed as medical advice. Please consult your doctor before starting any new diet or treatment.
 Molecular hydrogen (H2) generator for the body! CLINIC & SPA
 Our machine generates about 70% H2 (molecular hydrogen gas) and 30% O2 (atomic oxygen) with harmonious technique.
 Our H2 generator is set for a flow rate of 2 liters per minute.
 The gas can be inhaled using a nasal tube (2-piece cannula provided), or into drinking water using an air stone (2 pieces provided).
 In addition, it is used in bath water, for a regenerating SPA for the skin (psoriasis, vitiligo eczema)
 We have been using since 2012. 
 The case particularly designed for the patient/machine approach leaves the trust of the latter totally open in order to use this innovative medicine, like all our machines, all the components of our product is purchased in Europe and assembled in the EU, with CE certificate of conformity and medical device.
 We offer email and Phone/videocall support for all your questions and troubleshooting needs.
 Setup instructions and videos are sent after purchase.
Covid-19. A clinical study set up on the effectiveness of hydrogen against the virus
At the University Hospital of Grenoble.
https://amp.ouest-france.fr/sante/virus/coronavirus/covid-19-une-etude-clinique-mise-en-place-sur-l-efficacite-de-l-hydrogene-contre-le-virus-7151696?__twitter_impression=true
 The benefits have been miraculous!
 1. Hydrogen SELECTIVELY neutralizes free radicals!
 2. Hydrogen acts as an antioxidant!
 3. Hydrogen shows a powerful anti-inflammatory effect!
 4. Hydrogen shows strong evidence for pain relief!
 5. Hydrogen protects muscle cells!
 6. Hydrogen helps to recover after training or stress!
 7. Hydrogen balances pH!
 8. Hydrogen has a systemic modulation or balancing effect!
 9. Hydrogen protects nerves!
 10. Hydrogen protects the body from metabolic disorders!
 11. Hydrogen activates mitochondria (cellular energy)!
 12. Hydrogen protects your DNA!
 13. Hydrogen can reduce allergies!
 14. Hydrogen can protect against cancer!
 15. Hydrogen shows, the protection of several organs in experiments!
58 total views, 1 views today